State-of-the-art technology in a unique desig
The Elegant window profile system has outstanding features. The first-class value of Uf thermal insulation up to 0.93 w / m2k and the small profile depth of only 76 mm guarantee maximum flexibility for both new construction and renovations. The production process uses environmentally friendly and recycled EcoPowerCore material. That is why the Elegant line sets new standards in the field of sustainability.

With a minimalist look combined with a rectangular glazing strip, the Elegant represents a completely new generation of windows. From a visual point of view, Elegant and aluminum windows look almost identical - both types of windows give houses an elegant and modern look. Elegant is therefore an environmentally friendly and practical alternative to aluminum windows.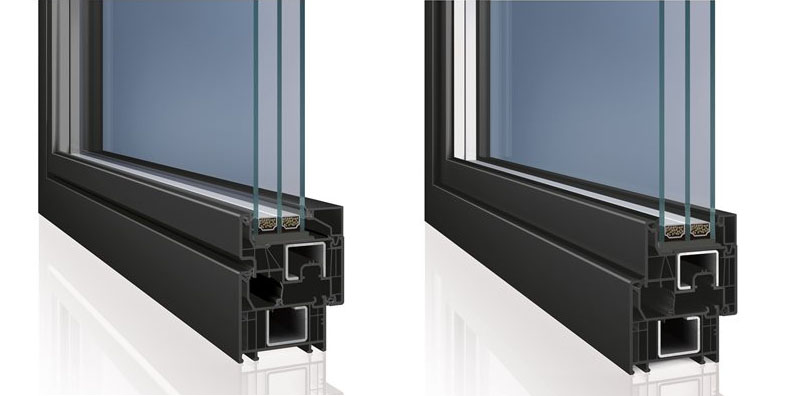 Tehnical specifications
Profile depth of 76 mm, 6 chambers
Frame insulation value: Uf value up to 0.93 W / m²K
Whole window insulation value Uw up to 0.63 W / m²K
The passive house standard is easily achieved with standard triple glazing
Possibility of glazing up to 70 mm
2 different designs - frame and sash in the same plane and in offset planes
Burglar protection up to class RC2
Award-winning design
The Elegant profile system represents a unique design of PVC windows. Minimalist sash and frame lines and an extremely narrow outer edge of the profile give the window an outstanding look. Deceuninck has won the German Design Award and the Red Dot Design Award for this revolutionary innovation.
Height brings light
Large windows create a pleasant ambience with plenty of natural light. With elements in the height of the ceiling, you can further improve the pleasant atmosphere of your home, and thus the quality of your life. Special gluing technology enables the production of extremely large, stable windows. You will notice the difference and enjoy it every day.
Resource saving and environmental protection
PVC windows save energy and resources. Our EcoPowerCore is used to produce profiles. The material consists of 100 percent recycled PVC. It is processed in our new high-tech recycling plant in Diksmuide, Belgium. Each kilogram of recycled PVC saves up to 2 kg of CO2 emissions. But the best part is that the material can be recycled almost indefinitely.
Colors
40 colors of foils that meet all requirements
Special modern colors for a futuristic look of the window
Large selection of modern designer foils in all shades of gray
The anthracite-colored profile base guarantees a complete aluminum look