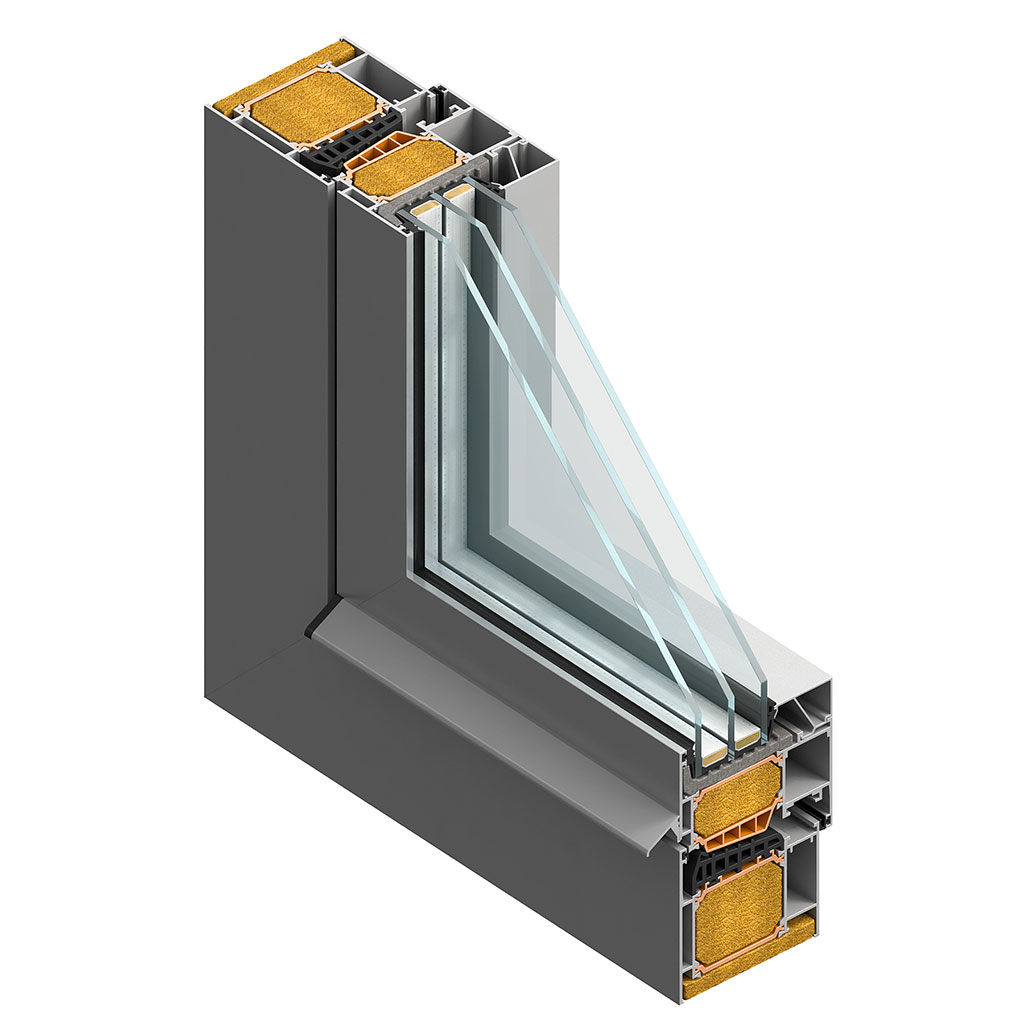 Termo 85 PA
The Termo 85 PA system is intended for the production of windows, balconies and entrance doors (opening inside) of highly insulated buildings, which meets the strictest criteria in terms of energy efficiency, ie meets the standards of a passive house Uw ≤ 0.80 W / m2 / K.
With the heat transfer coefficient through the frame Uf = 0.75 W / m2 / K, in combination with three-layer glass Ug = 0.70 W / m2 / K and the corresponding glass spacer, the total heat transfer coefficient through the window (dimension pr.EN 10077-2 1230 × 1480 mm ) is Uw = 0.78 W / m2 / K, which the system classifies as products that are compatible for installation in passive houses, and as a result of all the confirmation by the Passive Houses Institute (PHI) - Darmstadt Germany.
In order to obtain such results, ie to improve the thermal characteristics, in addition to the construction of the profiles themselves, the most modern materials were used in this system, with a very low coefficient of thermal conductivity λ (W / mK):
new generation polyamide tapes,
thermal insulation filling according to the circumference of the glass,
thermal insulation filling in profile chambers,
coextruded seals (spongy EPDM).
It is a profile system with an interrupted thermal bridge, with a basic installation depth of 85 mm. Interruption of the thermal bridge is achieved with new generation polyamide strips of 54 mm. Possible types of window opening: hinged, hinged, hinged-hinged. Possible types of door opening: inward opening. The system is compatible with facade systems. The hardware that is installed in the system is standard for the Euro/ groove 15/20.
Technical characteristics of the system:
frame depth: 85 mm
wing depth: 93 mm
filling depth: up to 46 mm
polyamide tapes: 54 mm
maxwing weight: 130 kg
air permeability: EN 12207 (class 4)
watertightness: EN 12208 (class E900)
wind resistance: EN 12210 (class C5 / B5)
noise protection: EN ISO 7171
burglary resistance: EN 1627
calculation of Uw coefficient: DIN EN ISO 100772 (≤0.8 Wm² / K)
base material: EN AW6060
polyamide tape material: Low Lambda PA66 GF25
sealing material: Sponge EPDM
surface treatment: DIN 17611
quality control: DIN EN ISO 900