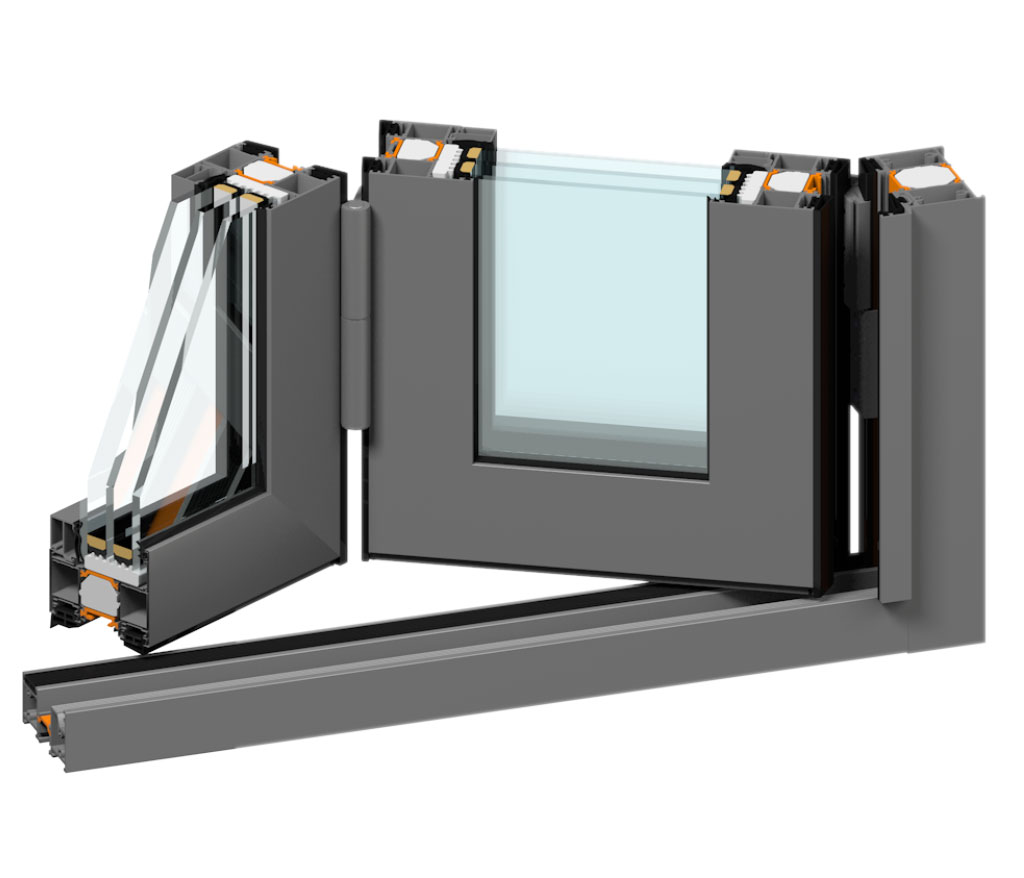 Termo 80 HD
The TERMO 80 HD system is intended for making door accordions (opening inside and out). The door wings are suspended over the trolley in the upper guide, while in the lower guide there is a guide mechanism which enables quick and easy opening and closing of the door. Termo 80 HD is a profile system with an interrupted thermal bridge, basic installation depth of frame and sash 80 mm. Interruption of the thermal bridge is achieved with polyamide strips of 30 mm. In order to further improve the thermal characteristics of the profile, profiled XPS rods (extruded polystyrene - ʎ = 0.035 W / m2K) are installed in the profile chambers and such profiles are named in the letter F. Sealing is performed with EPDM seals.
Technical characteristics of the system:
frame depth: 80 mm
wing depth: 80 mm
filling depth: up to 68 mm
polyamide tapes: 30 mm
wing weight: 90 kg
air permeability: EN 12207 (class 2)
watertightness: EN 12208 (class 4A)
wind resistance: EN 12210 (class C2 / B2)
noise protection: DIN 4109
burglary resistance: EN 1627
calculation of Uw coefficient: DIN EN ISO 100772 (≥1.2 Wm² / K)
base material: EN AW6060
polyamide tape material. : PA66 GF25
sealing material: EPDM
surface treatment: DIN 17611
quality control: DIN EN ISO 9001
The systems are intended for glazing terraces, balconies and catering facilities and allow undisturbed enjoyment of the view. Possibility of performance with three and five wings, where one wing is always fixed while the other wings are parked behind the first wing in the open position. The application enables greater flexibility in the use of space, more light in the interior and is a practical way to create new useful surfaces. By opening or closing the first sliding wing, the remaining wings are retracted thanks to the latch on the wings. Specially designed castors in the lower part of the sash allow quick and easy opening and closing of the sash.
Windows with broken thermal bridge
If your needs require high thermal performance, the solution is FEAL windows and doors with an interrupted thermal bridge.
The thermally broken bridge is a continuous barrier between the inner and outer aluminum profile. The material of the broken bridge can be PA66 GP25, PA66 GP25 Low Lambda and ABS. The broken thermal bridge creates energy loss, which reduces the passage of heat to the outside during the winter months, and to the inside during the summer months, which creates a pleasant stay inside the building throughout the year.